District Office Summer Hours Update M-F 7:30AM-4:30PM (Closed Fri June 21, 2019)
The June 17th regular scheduled school board meeting agenda has been uploaded to the school website under "documents-agendas and minutes"

8th Grade Graduation is today at 1:30 at the high school gymnasium.
The June 17th Special School Board Budget Hearing at 5:15PM has been postponed to July 15th. The scheduled Regular School Board Meeting June 17th at 6PM has not changed.

Last day of school: Thursday, June 13th. Students released at 10:00 am

$10 Sports physicals at the Randle Clinic are on Thursday, May 30th for girls and Friday, May 31st for boys. Paperwork will be available later this week.

Personal Finance students get a refresher course on table manners just in time for Prom!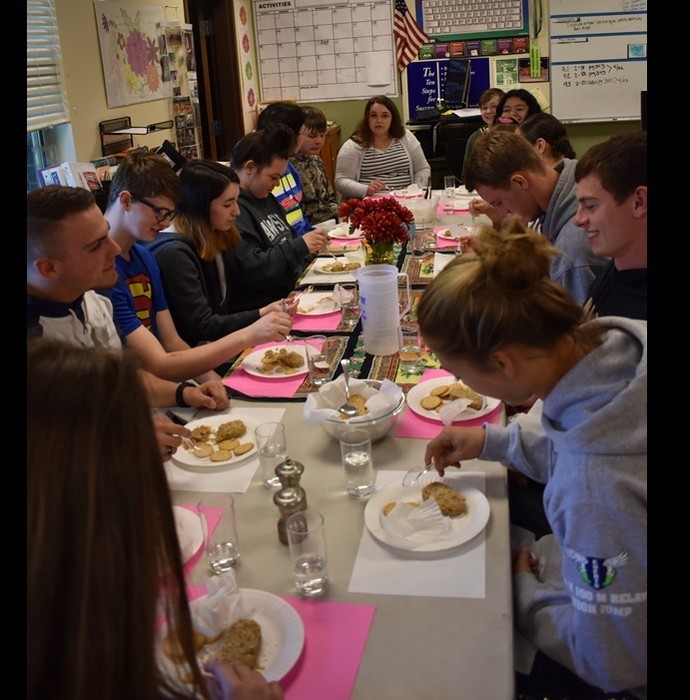 Blood Drive today at White Pass High School gymnasium. They will be open until 3:00 p.m.

New coaching positions posted for 2019-2020

Several coaching positions have been posted. Check out our Current Job Openings link.

Good News: 100% of Juniors completed the SAT. 100% of Sophomores completed the PSAT.

Child Pre-screening and early Preschool and Kindergarten registration will be on Wednesday, April 17th from 9:00-2:30 please call the elementary to schedule an appointment.

School will be two hours late today due to down power lines and trees across roadways.

The special board meeting scheduled for February 27th has been postponed. Future date and time TBD

6th Annual Scholarship Dinner & Auction will be held on March 9th from 5 pm to 8 pm.

Snow Day Makeup- The district is currently in the application process to have the three snow days waived by the state.

White Pass School District will be running two hours late tomorrow, February 14, 2019. No preschool and buses will be on snow routes.

The White Pass School District will be closed today, Wednesday February 13, 2019

White Pass School District will be on a two hour delay Wednesday February 13, 2019. No preschool and buses will be on snow routes

Stay safe