White Pass School was able to sponsor 15 students, grades 7-12 to attend the AWSL leadership camps held at Cispus Learning Center. The students are excited to bring what they learned back to school to set the tone for a great year.
9th grader Lily Nebeker said, "I really liked the assemblies at camp. they were great at getting everyone engaged which helped everyone feel more comfortable and have fun."
Thank you White Pass, Cispus, and AWSL for this unforgettable experience.
This opportunity is available every year. Below is a little more info on the two camps. White Pass will continue to support student leadership with these camps and hope your child will consider attending next year.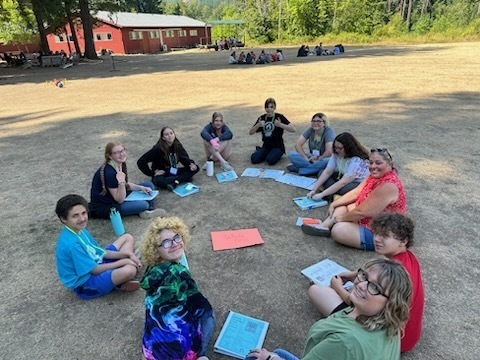 School Board Member Heather Muir and Principal Marji Ruzicka join the WP student planning session.
Middle School Program (7-9th grade)
Chinook Middle-Level Leadership Camp
A four-day experience that lasts a lifetime
Chinook Middle-Level Camp is a leadership experience designed specifically for middle-level students. Camp is open to students enrolled in middle schools or junior highs entering grades 7, 8, or 9. The staff is composed of enthusiastic, highly trained, and dedicated teachers, counselors, administrators, and college students. The curriculum is based on the goals and objectives of Washington Student Leadership, a program of the Association of Washington School Principals.
Through large group and small group activities, students learn a variety of useful skills that will help them in their development as positive school leaders. Some of the topics include:
Communication Skills

Positive Teamwork

Problem Solving

Decision Making

Involving Others in Your School

Successful Meeting Skills

Organizing Yourself
The camp experience is inclusive, energizing, and structured. The curriculum, and its emphasis on the experiential learning process, encourage students to maximize their potential. The camp staff teaches and models lifelong leadership and social skills.
---
High School Program (10-12th grade)
Empowering students to have the courage to lead
Mt. Rainier Leadership Camp empowers student leaders with the skills necessary to foster positive culture and climate in their schools and communities. We develop young leaders who will be able to navigate complex situations, manage conflict, and form meaningful relationships.
We focus on personal development and communication skills through mixed council groups with students from schools across our state. We engage students in collaborative projects, challenge course initiatives, group reflection, and project management to provide student leaders with the opportunity to practice and apply their new skills.
Our students leave energized, motivated, and prepared for the year ahead. They head back to their communities with a growing network of peers and adults who continue to support their goals and growth.